Christmas Card Candles, A Family Tradition | News - Plattsburgh Press Republican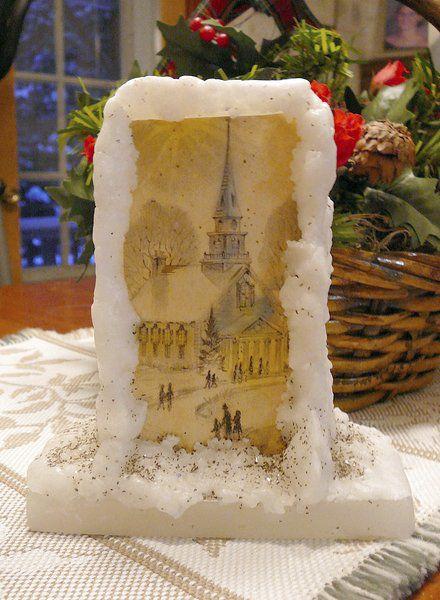 KEESEVILLE — Candlelight, translucent Christmas cards and cream of tartar.
These materials evoke a visceral memory of Christmas for Jan Washburn.
"Part of our childhood was my mother getting us altogether and getting out the supplies to make those candles," the Keeseville resident said.
"I was pretty young when they first started doing them. When I first started doing them, I was 4 or 5 years old. I used to get to whip the cream of tartar that we used to make the frosting for the candle. I remember that very well."
The cream of tartar was mixed with wax and whipped by a hand mixer to make the frosting for the candle.
"That's my earliest memory of it," she said.
ANATOMY OF A CARD CANDLE
The first step was to collect old Christmas cards to adorn the face of the candles.
"Then we had the older translucent cards," Washburn said.
"They weren't made out of card stock like they're made out of today. Those would really work well when the candle was burning. The picture would almost glow."
Vertical cards work best to affix to the candle.
"When we made them a few years ago, we printed our own pictures of vintage Christmas cards that we found on the internet," she said.
"We did it on a thin paper to replicate that."
The second step is fusing the two blocks of wax together with wicks in between.
"You have to melt some wax to get them to stick together," Washburn said.
"Once you got your candle standing, then you would affix the picture. We usually did that with little straight pins."
The pins are buried beneath the tartar frosting that frames the picture.
The frosting was placed on the sides of the candle, over the top and down on the front a little bit.
HOMEGROWN BUSINESS
This family enterprise of Bernard and Edith DeShaw taught their three daughters — Theresa, Mary and Jan — and son, Roy, door-to-door sales.
Proceeds, between $300 and $400, were used for Christmas presents.
"She just wanted us to have a nice Christmas," Washburn said.
"My dad worked as a mechanic. He didn't make a lot of money. We would supplement our Christmas by selling the Christmas candles. I believe they were about a $1. They weren't very much."
Bernard would drive his daughters from their home in Tupper Lake to Plattsburgh.
"And just stop at decorated Christmas houses along the way," Washburn said.
"We'd go door to door. My older sister Mary, usually I would be selling them with her. She was four years older."
Her sister Theresa and cousin Donna (Bellows) Jacobs were Girl Scouts and learned how to make the candles and brought them home.
"My mom got the idea to make some after they did them in Girl Scouts," Washburn said.
"We had a box with all these different candles. On a good night, we probably made, I would say, $30 or $40."
RELISHED REWARDS
One of the presents Washburn wanted was a toy horse trailer.
"And I did get that with the toy horses," she said.
"That's one of the things that I remember."
None of her family members had any of their homemade candles until Mary found one when she was cleaning out a friend's basement.
"She went over, and she found the candle," Washburn said.
"She said, 'Can I have this? My mother made this candle.' And her friend gave it to her."
Three or four years ago, the sisters revisited their candle-making skills.
"We made some for our kids and for ourselves," Washburn said.
"We only did it once though."
Email Robin Caudell:
Twitter:@RobinCaudell
http://bit.ly/2V6Mg8o