Crazy Cooking Challenge-Apple/Pear Streusel Pie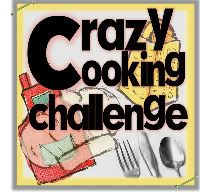 Although I bake a lot, I rarely make pies, especially fruit pies. When all my children lived at home, a pie would last maybe one day. Each of us would have a piece and hubby maybe two, and it would be gone; while a cake or some cookies would have a chance to last at least a couple of days. Making a pie crust and slicing up all that fruit just seemed like too much work.
When I saw that apple pie was the Crazy Cooking Challenge for October, I decided that I would be making a pie. I also decided that the crust would come from the grocery store. I like to use the frozen crusts because I get some pie tins that I can reuse. I also get a nice, pretty edge with a frozen crust that I don't get if I use the refrigerated ones. Certainly make you own pie crust if you want, but don't "beat yourself up" if you use one from the grocery store. You will need a deep dish pie crust for this one.
I have admitted my love of streusel before and wanted to use it for this pie. When a streusel topping is used on an apple pie, it is sometimes called a French or Dutch Apple Pie. I had also seen an idea for making a pie with both apples and pears so that is what I decided to do.
One note of caution. If you do not want to spend time cleaning your oven, place a foil-lined jelly roll pan or cookie sheet on a rack below this pie. It is a very full pie and has a tendency to run over the pie pan.
I used Gala apples and Bosc pears and got a very sweet pie. Using Granny Smith apples or reducing the sugar would probably result in a less sweet pie.
The pie needs to cool thoroughly in order to completely set up. It can then be warmed for 45 seconds in a microwave and served with a scoop of ice cream if desired, and we desired.
Apple/Pear Streusel Pie
1 10-inch deep dish pie crust
3/4 c. quick oats
1/2 c. flour
1/3 c. packed brown sugar
1/2 t. cinnamon
1/4 c. chopped toasted walnuts
1/3 c. butter or margarine, melted
3/4 c. sugar
14 c. flour
1 T. cornstarch
1/2 t. cinnamon
1/2 t. nutmeg
1/4 t. salt
3 c. thinly sliced peeled and cored pears (about 3)
3 1/2 to 4 c. thinly sliced peeled and cored apples (about 3 to 4)
In a medium mixing bowl, mix together oats, flour, brown sugar, cinnamon and walnuts. Combine well. Add melted butter or margarine and mix until mixture resembles small peas. Set aside. In a large mixing bowl, combine sugar, flour, cornstarch, cinnamon, nutmeg and salt. Mix well. Add pears and apples and mix until fruit is well coated with flour mixture. Turn mixture into pie crust. The fruit will need to be heaped up in the center. Carefully sprinkle and pat streusel mixture over the fruit, covering it well. Set a foil-lined baking pan on a rack under the rack on which you are baking the pie. Place pie in oven and bake at 375 degrees 45 minutes until fruit is tender and topping is beginning to brown. Remove from oven and place on a rack to cool completely. Makes 6 to 8 servings. Store any leftovers, covered, in the refrigerator.
For more great apple pie recipes, just check out the links below. Tina, our hostess for Crazy Cooking Challenge has all the information necessary to join in future challenges here. The schedule for the next 3 months is: November-stuffing, December-sugar cookies, January-French Toast so find your best recipe and join in the fun.