Gourmets & Good Eaters: Window Season Offers Plenty To Cook With - CapeNews.net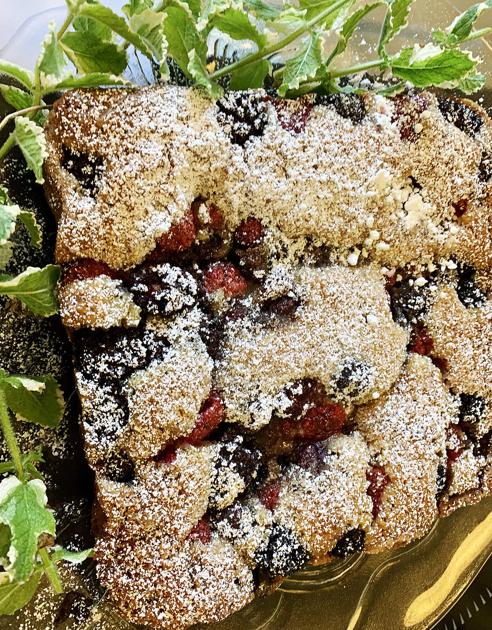 I think of early September as a "window season," in that we are passing into fall, but our summer bounty is still plentiful. Tomatoes, corn, zucchini, eggplant, and kale are overflowing the vegetable bins. It's nice to think of apples—beyond the pie, of course—but that's for next week.
Today let's look at a few more of the best of the summer at my Highfield Hall cooking classes, and go to some other favorites for this time of year. My basil did exceptionally well this summer, perhaps due to the wet spring. It's been a pleasure to tear it up and add it to pizzas and pasta dishes. The last of it is nice to use in this succotash. The sherry vinegar and croutons make this special. I like to serve it with a grilled steak or a roast chicken—it's all you need to celebrate the window season.
Summer Succotash
With Bacon And Garlic Croutons
(adapted from
Gourmet magazine)
1 pound fresh shell beans in pod or 1 cup frozen baby lima beans
4 slices bacon
1 ½ TBSP olive oil
1 small Vidalia onion or other sweet onion, chopped
1 large garlic clove, minced
1½ pints cherry tomatoes, halved
Fresh kernels from 4 ears corn
1 TBSP sherry vinegar, plus more to taste
¼ cup each: packed small fresh basil leaves and packed small fresh arugula leaves
In a small saucepan of boiling salted water cook beans over moderate heat, stirring occasionally, until just tender—about 5 minutes for fresh or frozen lima beans, 20 to 25 for fresh cranberry beans. In a sieve drain beans and rinse under cold running water to stop cooking. Set aside. In a skillet cook bacon over moderate heat until crisp. Drain bacon on paper towels and crumble. Pour off all but 1 TBSP bacon fat from skillet. Add oil to bacon fat in skillet and cook onion over moderate heat, stirring, until just softened. Add garlic and cook for 1 minute more. Add tomatoes, corn, and vinegar and cook, stirring, until tomatoes just begin to lose their shape. Remove skillet from heat and gently stir in cooked beans and half of bacon. Cool succotash to room temperature and gently stir in basil and arugula, and salt, pepper and additional sherry vinegar to taste. Toss with croutons and sprinkle with remaining bacon before serving.
Garlic Croutons
1 garlic clove, peeled and halved
1 round loaf crusty bread
2 TBSP extra-virgin olive oil
Cut three 1-inch-thick slices from middle of loaf and brush bread with oil; lightly oil a well-seasoned ridged grill pan and heat over moderately high heat until hot but not smoking. Grill bread until golden brown on both sides; alternately, you can run toasts under the broiler for a minute. Remove from heat and immediately rub bread on both sides with cut side of garlic and sprinkle with salt; cut into cubes and toss into succotash.
This is an interesting "last hurrah" for tomatoes and basil—you could substitute cooked pasta (orecchiette would be good) and again, just serve this with some grilled fish or pork for a complete dinner.
Creamy Caprese Quinoa Bake
(adapted from
2 cups cooked quinoa
1 cup marinara or passata (pureed seeded tomatoes)
2 TBSP tomato paste
1⁄3 cup each: heavy cream and Parmesan cheese
1 cup mozzarella, divided
1 cup grape tomatoes, halved
1 large bunch fresh basil, cut into ribbons
½ tsp crushed red pepper
Preheat oven to 350°F; heat tomato sauce and tomato paste over low heat in a large saucepan. Once warm, stir in heavy cream, Parmesan, crushed red pepper, and salt and pepper to taste. Remove from the heat and stir in the quinoa; fold in half of the mozzarella and half of the tomatoes, then chop 6 fresh basil leaves and stir them in, too. Once combined, spray an 8-x-8-inch or 9-x-9-inch baking dish with non-stick spray and pour the entire quinoa mixture into the dish. Top with fresh mozzarella rounds or shredded mozzarella and the remaining tomatoes. Bake for 10 to 15 minutes and then turn the broiler on and broil for 1 to 2 minutes or until cheese is golden and bubbly; remove from the oven and top with fresh basil ribbons. Allow to sit five minutes and then serve.
In addition to my basil, I have a rosemary plant that thinks it's growing in the Mediterranean. Blooms presented for most of August, and now into this month. It's beautiful to look at—and cook to with. Use any extra branches you have cut to garnish this dish, or just use flat leaf parsley as I did.
Wild Mushroom Crostini
20 thin slices of baguette
2 to 3 TBSP olive oil
¼ cup chopped shallots
4 cups chopped mushrooms (stemmed shitakes, cremini, oyster)
1 garlic clove, minced
2 to 3 TBSP whipping cream
1 to 2 tsp minced fresh rosemary
1 to 2 tsp chopped fresh parsley
½ tsp grated lemon peel
1 cup grated Fontina cheese
¼ cup freshly grated Parmesan cheese
Rosemary sprigs or fresh parsley leaves for garnish
Preheat oven to 375°F. Arrange baguette slices on rimmed baking sheet and brush lightly with oil; toast in oven until golden but still soft, about 4 to 5 minutes. Cool and set aside. Heat remaining oil in large skillet over medium-high heat; add shallots and sauté 1 minute. Add all mushrooms; sauté until beginning to brown, about 6 minutes. Stir in garlic; sauté 1 minute. Remove from heat; stir in cream, rosemary, and lemon peel and season with salt and pepper to taste. Let the mixture cool, then mix in both cheeses. Top each toast with about 1 TBSP mushroom topping and place on a rimmed baking sheet. Bake in a preheated 425°F oven just until cheese is melted and begins to brown, watching closely to prevent burning, about 3 minutes. Transfer to serving platter and garnish with fresh herbs; serve warm.
Perhaps you, too, have been the lucky recipient of many garden tomatoes and zucchini this summer. Here's a way to use up those large tomatoes that may have a few bad spots in them—just cut them out and proceed with the recipe. Ottolenghi's strata is a great way to use up some zucchini, once you have tired of bread and zoodles.
Tomatoes Provencal
(adapted from Tartine Bread)
4 medium to large heirloom tomatoes, halved crosswise
2 slices day-old bread
1 TBSP herbes de Provence
Grated zest of 1 lemon
¾ cup grated Parmesan
3 TBSP olive oil
Line a quarter-sheet pan with foil or parchment paper; arrange the tomato halves on top, cut side up. Drizzle with a little olive oil and season with salt; bake in a preheated 475°F oven for 10 to 15 minutes, until the tops start to caramelize slightly. Meanwhile, place the bread in a food processor and pulse to make fine crumbs; add the herbs, lemon, cheese, and remaining oil and pulse to combine. Remove the tomatoes from the oven and spoon the crumbs on top; bake another 15 minutes, until the crumbs are well toasted. Serve warm.
Zucchini Strata
(adapted from Yotam Ottolenghi)
1 lb ciabatta bread, crusts removed (and used in recipe above)
¾ cup plus 2 TBSP heavy cream
¾ cup plus 2 TBSP whole milk
2 cloves garlic, minced
6 large eggs, lightly beaten
¾ tsp ground cumin
¾ cup finely grated Parmesan
3 to 4 cups coarsely grated zucchini
1¼ cups basil leaves, torn into pieces
2 TBSP olive oil
Tear the crustless bread into bite-sized pieces and place in a bowl; add the milk and cream and mix well. Let stand for 30 minutes, until the bread has absorbed the liquid. In another bowl, beat the eggs with the cumin,¼ cup Parmesan, and salt and pepper to taste. Mix well, then add the bread and its liquid, followed by the zucchini and basil; stir gently. Place an 8-by-0-inch baking dish in a preheated 400°F oven for 5 minutes; remove and brush with oil, then pour in the zucchini mixture. Smooth the top and bake for 20 minutes; sprinkle with remaining Parmesan and bake until golden brown and cooked through, another 20 to 25 minutes. Let rest 5 minutes before serving.
Lastly, here's a "last hurrah" for seasonal fruit. This is a very adaptable recipe uses either berries or stone fruit, or a combination, should you wish. And looking toward the fall, you can also make it with cranberries.
End Of Summer Berry Torte
(adapted from King Arthur Flour)
½ cup butter, at room temperature
¾ cup sugar
1 tsp baking powder
½ tsp salt
2 large eggs, at room temperature
1 tsp vanilla extract
1 cup AP flour
1 ½ to 2 cups fresh or frozen berries or sliced stone fruit
2 TBSP sugar (more to taste)
1 tsp ground cinnamon
Confectioners' sugar for dusting
Preheat the oven to 350°F. Lightly grease an 8-inch or 9-inch square pan, or 9-inch or 10-inch round pan.
In a medium bowl, beat together the butter, sugar, baking powder, and salt until smooth. Beat in the eggs one at a time, scraping the bowl after each addition. Stir in the vanilla and mix in the flour to make a stiff, smooth batter. Spread the batter in the prepared pan. If using fresh berries, sprinkle them on top. Combine the sugar and cinnamon and sprinkle over the fruit. Bake the torte for 35 to 40 minutes, until a toothpick inserted into the center comes out clean and the top of the cake is light golden brown.
Note: for frozen cranberries or sliced stone fruit, bake the cake batter for 10 minutes (this will set the bottom of the cake, so the fruit doesn't sink and disappear). Remove from the oven and place the fruit on top; sprinkle the top with sugar (or cinnamon sugar). Bake the cake for an additional 40 to 45 minutes, until a toothpick inserted into the center comes out clean and the top of the cake is light golden brown; remove from the oven and let cool slightly, then dust with confectioners' sugar. Serve warm.
Here's a variation for later this fall: Cranberry Cake. Line a lightly greased 8-inch round cake pan with parchment or waxed paper; grease the paper. Make the cake batter, and spread it in the pan. Bake the cake in a preheated 350°F oven for 10 minutes. Remove it from the oven, and quickly and carefully top with 2 cups (8 ounces) fresh cranberries. Sprinkle the cranberries with 1⁄3 cup granulated sugar plus 2 TBSP coarse sparkling sugar (or with ½ cup granulated sugar). Bake the =cake for an additional 45 minutes, until a cake tester or toothpick inserted into the center of the cake comes out clean. Remove from the oven, and serve warm, as is—or topped with ice cream or whipped cream.
https://ift.tt/31kRvnx