Malaysian Food Finds @ 26 December, 2005
Ho! Ho! Ho! It's been a great week of feasting with the Dong Zhi festival and Christmas. Lots of home made feasts or eating out adventures by all for you to relish with your eyes and a click of the mouse.
What's cooking in the kitchen?
Let's start with turkey, that festive dish that is essential for Christmas. Lilian from Malaysia Best cooked her first turkey and it looks fantastic. Lots of effort was placed on cooking this turkey and it even went for a bit of an "alcoholic massage" to get it's juices going. Glutton Rabbit from Pearl of the Orient has been busy but she still managed to make a lovely holiday dinner for her family by cheating a bit. Keeping with the festive theme, Fatboybakes from Have Your Cake and Eat it Too made some lovely looking gingerbread cookies.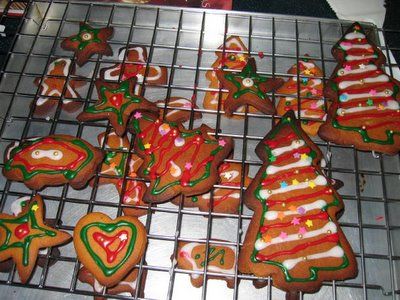 Fatboybakes' fantastic looking gingerbread cookies
On to the Dong Zhi celebrations and they were celebrated with lots of tang yuan/tong yuen that is essential. Living Gem had some teeny weeny looking ones that came in candy colours. Lilian from Malaysia Best was busy with Christmas preparations but she shares with us her childhood experiences of making tang yuan/tong yuen. The Sensintrovert shares with us his celebrations in England with some frozen tang yuan/tong yuen. You can also get a podcast on how to make tang yuan/tong yuen over at Eat First Think Later.
Swee from Just Heavenly cooks up her own version of Maggi Goreng. Lilian from Malaysia Best fried Hokkien Noodle as it's extremely hard to get good ones in Penang. Just Heavenly also made some interesting beer battered chicken. On the alcohol theme, how about some homemade hot wine? Check out Living in Denial who gives you lessons as it's as easy as making Maggi. Foodcrazee has been busy in the kitchen for his practical lessons but he got a lovely surprise when he wife cooked for him lovely soup.
On to the sweet stuff and the girls from Just Heavenly were busy with refreshing Lychee Sorbet and Egg Mousse Tarts. Fatboybakes from Have Your Cake and Eat It made some yummy looking onde-onde and wicked looking orange mocha brownies. Elaine made some delicious looking chocolate candies for the festive season. If you want some lovely popcorn to go with your home movie, check out what Tham Jiak made as it looks delish.
Eats to relish around Kuala Lumpur

Do you want to dice with danger? How about some fugu sushi which is being served in Aoyama Japanese restaurant in Desa Sri Hartamas? Nekochan from Food Safari tried some and she lived to tell us about it. For something less dangerous but also from Japan, Babe from Babe in the City tried out those famous Beard Papa cream puffs in Mid Valley Megamall amid all that traffic jam woes. Wow! The puffs look so sinfully good with all that pastry cream that comes with black dots a.k.a vanilla beans.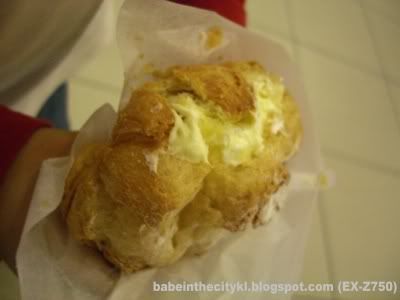 Those yummy looking Beard Papa cream puffs from Babe in the city
KY from kyspeaks had black chicken herbal soup with mee suah that looks so good. He also introduces us to the best Ramly burgers in Petaling Jaya. Everything is pretty nearby so I must give them a try. Acrix from Acrix69: Realmz of Fantasy! introduces us to Vietnamese food at Red Antz, Sri Petaling. Everything looks good and I love those cute little red ant motifs all over the cafe. He also had some interesting looking tong sui at Sweet Bean which I have not seen before like tau foo fa with peanut paste and black sesame paste with peanut paste.
Babe from Babe in the City had some yummy looking Mee Rebus around the Masjid Indian area. She also braved the stares of her hubby to bring us pictures of her colleague's wedding dinner. Yummy Corner introduces us Jalan Sepadu's Loh Mee which looks good. Boredworkers went on a bit of a Christmas binge with barbeque buffet in Restaurant Talipon just off Jalan Kuchai Lama. I have hear quite a bit about this place and it sounds like a fun place after reading his write-up. Memoirs of a Chocoholic tried out Flaming J' Firehouse and found it so so but great value for money. Mark Tham from Good Food, Good Life celebrated his Christmas dinner at La Gourmet.
Not everyone has great eating experiences and Wyejon from Wantan Productions was dissapointed with the set lunches being served at Jack's Place in 1 Utama. Foodcrazee tried out the Dragon-i in Mid Valley Megamall and found the food completely different in taste from their 1 Utama outlet. Not only that, service was lousy with surly wait staff.
Eats to dream about since they are out of Kuala Lumpur
I have heard quite a bit about the famous Lunas Roast Duck so it was fantastic when the Penanglive.comUnity tried it out. Lots of yummy-licious looking pictures were taken of this crispy duck and it's so cheap compared to the ducks in KL. James from Loopy Meals tried out a new place for dim sum in Ipoh on the recommendation of his confinement lady but sadly it turned out to be a bit of a dissapointment. He promises that the famous Foh San dim sum will be next so I am waiting in anticipation as I love their dim sum there. I guess he should have taken Lilian from Malaysia Best's advice and drove a little further to test out Cafe De Tai Thong in Penang. Their dim sum looks fantastic and you even have to fight for tables at this place!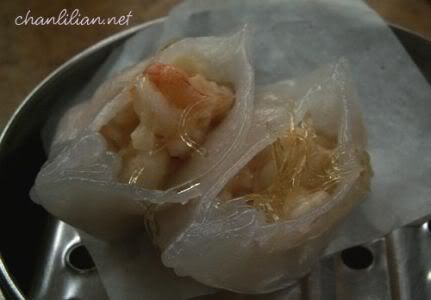 Prawn and Sharkfins dumpling from Malaysia Best
Siah from The Malaysian Recipes Blog brings us more yummy eats from Sandakan and this time it's afternoon tea time treats and vegetarian food. Big Head Big Hat went to Kuala Selangor for some seafood during the holidays but found it a total dissapointment especially after the long drive there. Good Food, Good Life had the famous curry laksa in Kuantan which sounds very good that I wish it was nearby so I can give it a try. Umami made a trip to Melaka for some satay celup and popiah. Everything looks so great!
* Photos have been borrowed from the respective sites so if you are not comfortable with them being posted up here, do drop me a comment and I will remove them.
Tagged with: Malaysian Food