Maushi-Maushi!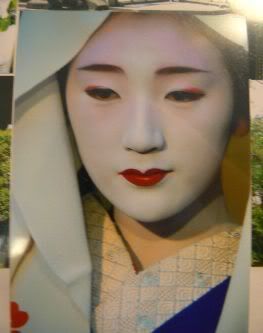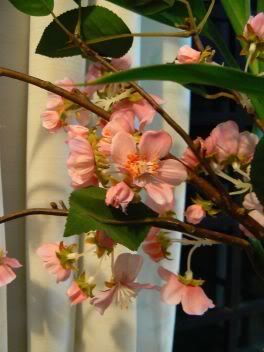 Japanese theme
Every year, we celebrate at our friend, Mau's house for New Year. It is an invitation, we cherish as it means yummy food from her. This year, we went Japanese at her Maushi-Maushi! party. The name of the party is a play of the word "moshi moshi", which the Japanese term as hello but using her nick, Mau. Even the house was decorated with a Japanese theme - cherry blossoms, Japanese geisha pictures and etc.
Tomato Asparagus Soup Shooters topped with Tobiko

For starters, we had these soup shooters. They're not exactly Japanese with the exception of the dollop of Tobiko on top but very delish. Inspired from the Spanish dinner at Max! Kitchen and Wines, this has tomato and asparagus. Instead of crabmeat, Mau added Tobiko, which tasted just as yummy.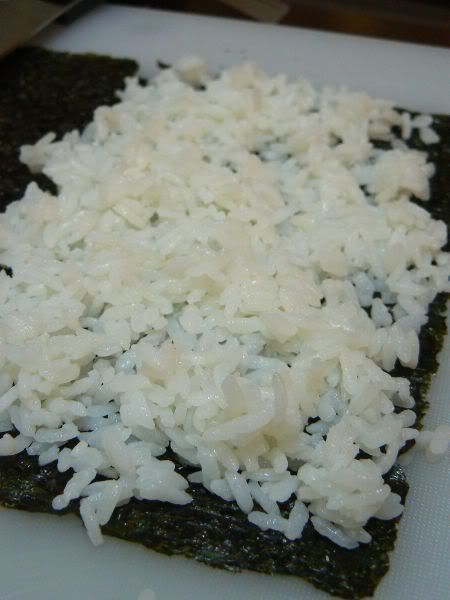 Spread rice throughout nori

We even learnt how to roll our own maki, which was great fun. Sarah, a friend of Mau's who has experience from working in a sushi restaurant in Adelaide, was the expert maki maker that night. She was very nice to give pointers to Splashie Boy, who helped roll the maki. As the rice was very sticky, she taught us to use olive oil to keep the rice off your fingers. First, spread the nori seaweed sheet on the bamboo mat. Add rice to spread all over the sheet (about half around till the sides)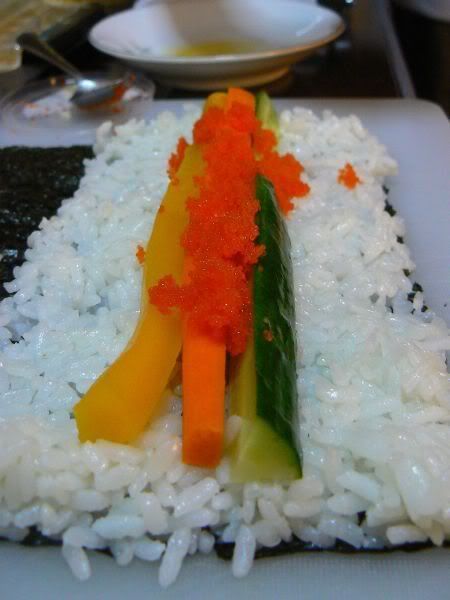 Adding the vegetables, pickles and ebiko

Add chopped vegetables - carrots and Japanese cucumber. Also add pickles in one line. Cut them off if they are too long. Top with a dollop of ebiko.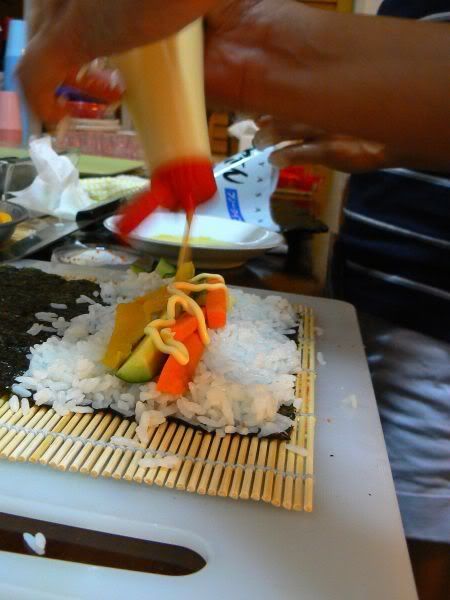 Adding Japanese mayonnaise

Drizzle along the vegetables and ebiko, Japanese mayonnaise from the squeeze bottle.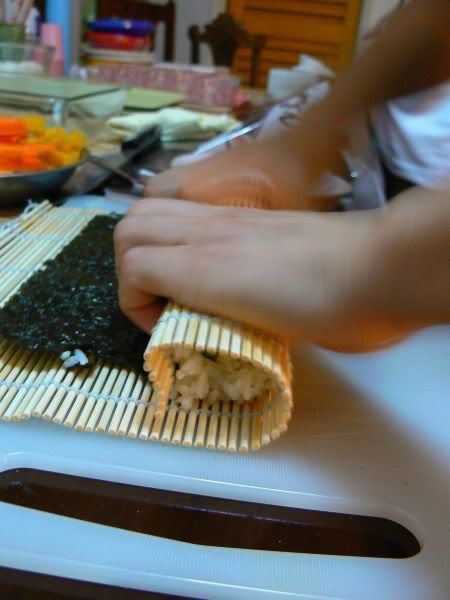 Rolling sushi with mat
Then it is time to roll. Use the mat to help you roll it properly, while pressing down the mat to form a roll.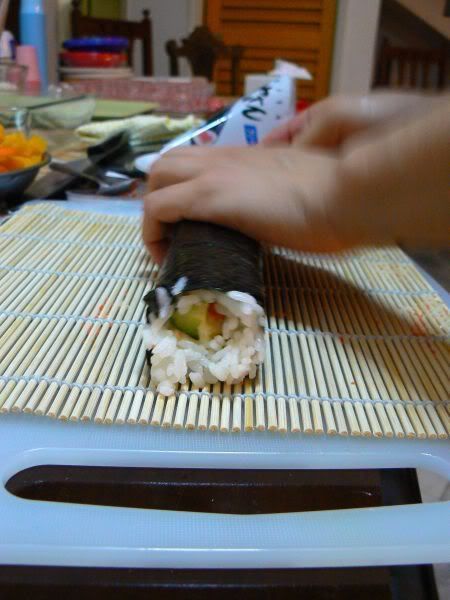 Rolled sushi

Once you have pressed firmly down, you will have a rolled rice roll.



Slicing the maki
Use a very sharp knife and slice the roll into maki pieces. Discard the ends or just pop them in your mouth.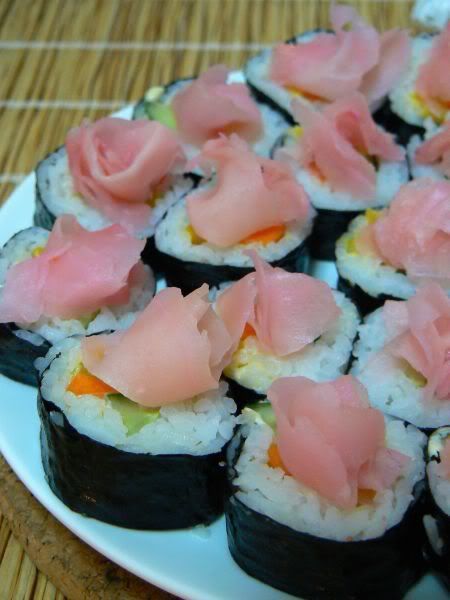 Vegetarian maki

We had a few varieties - the vegetarian version with no ebiko, topped with pickled ginger gari to distinguish them.



Salmon maki

Some had cooked salmon within with a piece of cucumber. Very oishi!



Futomaki

The futomaki version, had ebiko on top of it as they had dipped each slice with ebiko. Also very oishi! I liked this maki so much more compared to Kampachi as the rice was moist versus the dry tasting maki.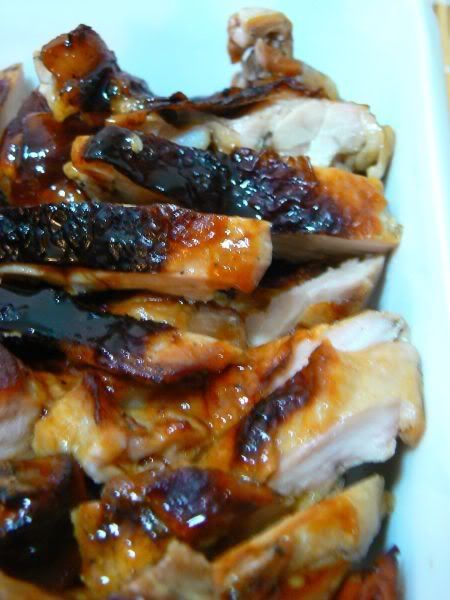 Teriyaki chicken

It would not be a Japanese dinner without teriyaki chicken. This was baked in Mau's oven and was the first dish to be finished. I didn't snap the picture of another dish, the pan fried cod, which was also very yummy and served with a creamy sauce.



Make your own sushi

We also had another version of sushi - just grab a few nori sheets and make your own hand roll. Top it with the sushi rice, pickles, seaweed, cooked assorted mushrooms and prawns.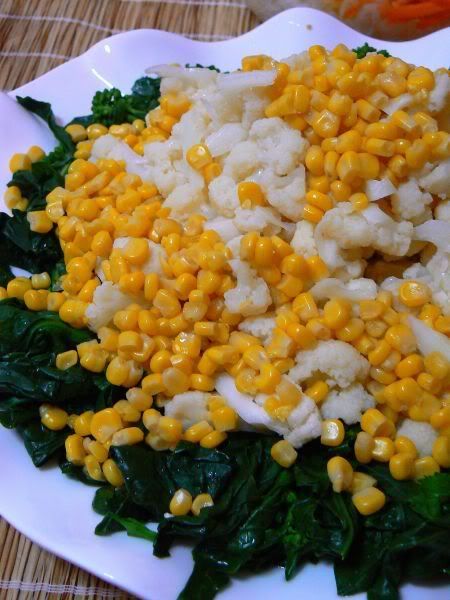 Salad of baby kailan, cauliflower and corn niblets

I liked the salad with the bright yellow, white and dark green colours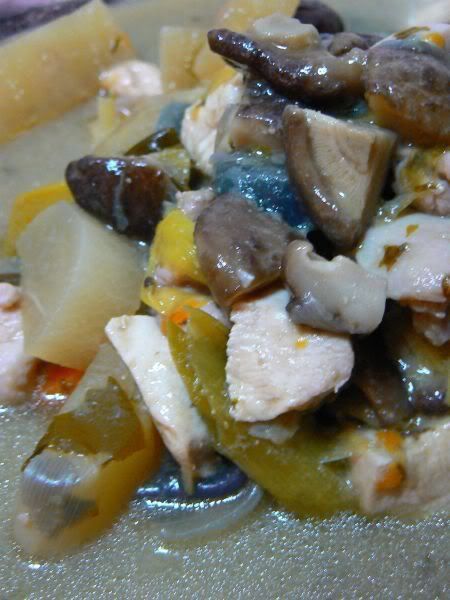 Chicken miso soup

This may not look fantastic but believe me, this was such good stuff. The chicken miso soup was chock-full of chicken cubes, shitake mushrooms, radish, carrots, celery, seaweed and miso. Such yummy stuff, I had two bowls of this.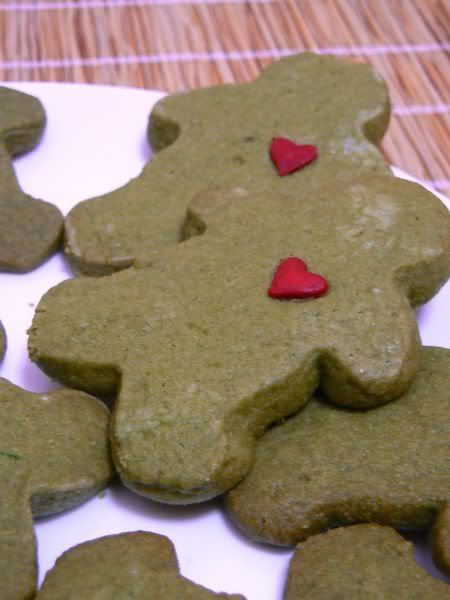 Matcha Men

My other friend, S made these adorable Matcha Men. I love their little red hearts and the texture of the cookie - very soft and melt in the mouth. Must try this recipe again at home as it is so good.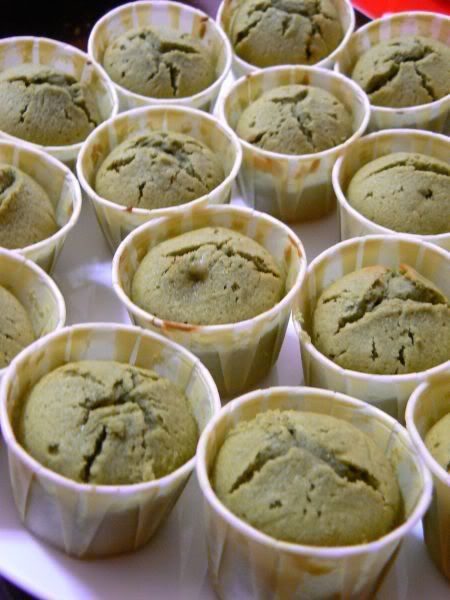 Matcha Cupcakes

She also made Matcha cupcakes - this one was a bit dense but nice also. Will try this version one day topped with white chocolate. We also had yummy fried noodles - cha soba mixed with tobiko and pea sprouts after the countdown. Mau rented a projector and we watched Top Secret, that slapstick comedy with Val Kilmer when he was super skinny. It was great fun meeting and catching up with old and new friends. Thanks so much to Mau and S for a great time.