Pepper Pig Stomach Soup, Lai Mian And Dumplings @ Restaurant Hong Seng, Section 17, Petaling Jaya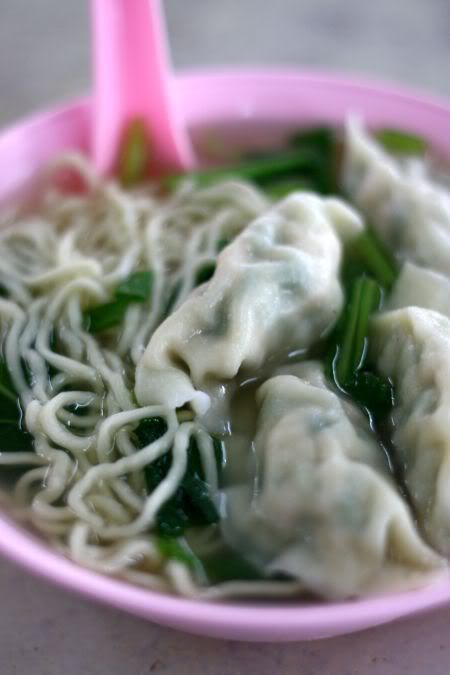 delicious tasting lai mian with plump shui jiao (all for RM4)
To kick off this week, I thought it would be nice to highlight this great value-for-money stall at one of my favourite coffeeshops in Petaling Jaya. Located at the corner opposite CIMB Bank Berhad, Restaurant Hong Seng is a favourite stop over for my mother and I. We both absolutely love the roast pork and the teochew duck porridge here. Even the curry laksa and yong tau foo is pretty good but I never seem to get round to blogging about it.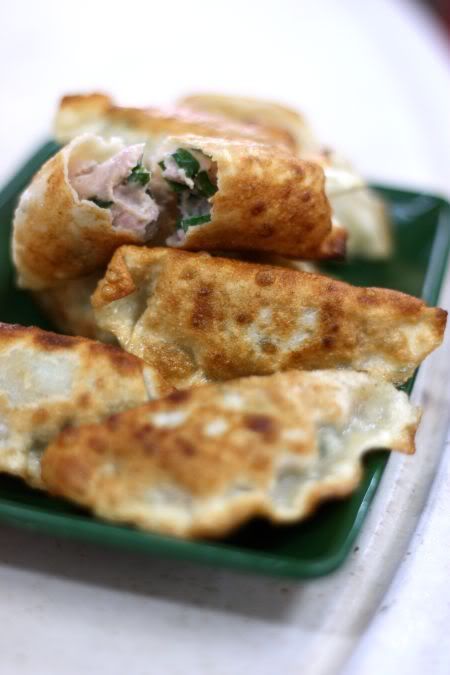 great value - 8 pieces of pan fried juicy dumplings for RM4.80
My mother was recently introduced to this stall by her friends, hence I decided to give it a try. Manned by a Mainland China woman, she sells lai mian, pepper pig stomach soup and dumplings (the boiled and pan fried versions). Communicating to her may be a little problem especially if you don't speak Mandarin like me, but I got by since she seems to understand my Cantonese. She also has photos of her dishes on her stall, so I reckon if there is a communication breakdown, just point to what you want.
not too impressive pepper pig stomach soup for RM4
For the pepper pig stomach soup (RM4), you can opt to have it plain or with noodles (a choice of her own made lai mian or kuey teow). While the soup does not qualify for greatness since it lacks the fire I like from loads of white pepper, it was still pretty decent tasting. The lady mixes the strips of pig's stomach with tofu puffs and chopped vegetables; giving a little variety to the soup.
What I really liked and totally enjoyed were her dumplings. She sells the boiled version (shui jiao), which you can order with the handpulled noodles. I got a bowl of noodles with 4 juicy and plump filled shui jiao for just RM4!! Definitely a steal, I reckon. For the pan fried version (wor tip), she sells 8 pieces for RM4.80 - another fantastic deal. Stuffed with minced pork and chopped chives, each dumpling is so juicy, you have to be extremely careful while eating them. Even though the noodles are nothing fantastic, the bowl of dumplings with the clear soup and chopped vegetables feel extremely healthy. Do give it a try, as I reckon this stall offers very good value-for-money food. While it lacks the detailed refineness of the restaurants, it still tastes pretty good since it has a homecooked feel to it (and lack of MSG!).
On another note, I've also noticed a couple more changes to the food and beverage scene. Silom, the Thai restaurant at Plaza Damansara seems to have closed down and there is a new cafe called Moxie (owned by the same people from Cava and Opus) at where Sandias used to be. Yo! Sushi at Pavilion KL, has closed for renovations. Not sure if the Midvalley outlet is also going through the same renovations. And, I noticed Marche now does not sport the Movenpick logo anymore plus they stopped serving Movenpick ice cream at their dessert counter replacing it with Nestle ice cream! Does this mean, they are no longer part of the Movenpick group? The website seems to mention Movenpick still but I wonder why they changed the ice cream brand used. Anymore changes you have noticed recently?
Pepper Pig Stomach Soup & Dumplings Stall
Restaurant Hong Seng
Along Jalan 17/29Section 17Petaling Jaya

(Non Halal. Stall seems to be opened from breakfast to lunchtime.)

*Disclaimer: The opinions expressed here is entirely based on my personal tastebuds and may vary for others. This review is time sensitive; changes may occur to the place later on that can affect this opinion. The reviewer also declares that she has not received any monetary or non-monetary compensation from this place for writing the review.

Tagged with: Noodles + Dumplings