Ramadan Bazaar 2009 @ Shah Alam Stadium, Section 13, Shah Alam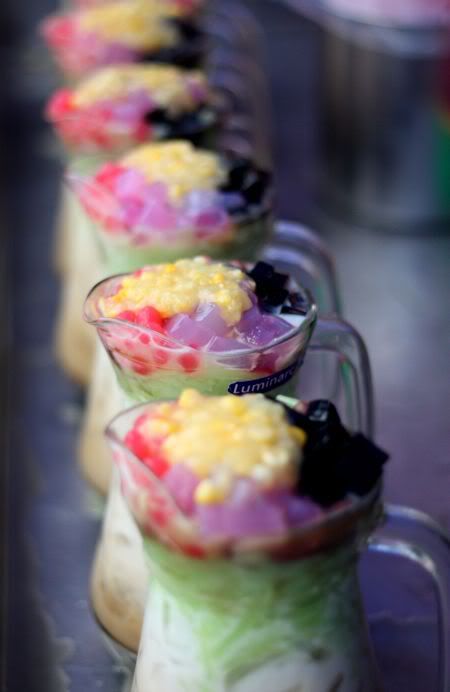 gorgeous colours in the cendol jugs
Shah Alam's Ramadan bazaar holds a special place in my heart, probably because it is the nearest one to my office. Due to its proximity, we often go there on a daily basis, checking out the numerous stalls and trying out most of the items. Since I was busy with work last week, we tend to visit the place quite late when there's a huge crowd. However last Friday, we made it early and I managed to capture one of nicest set of pictures of the bazaar.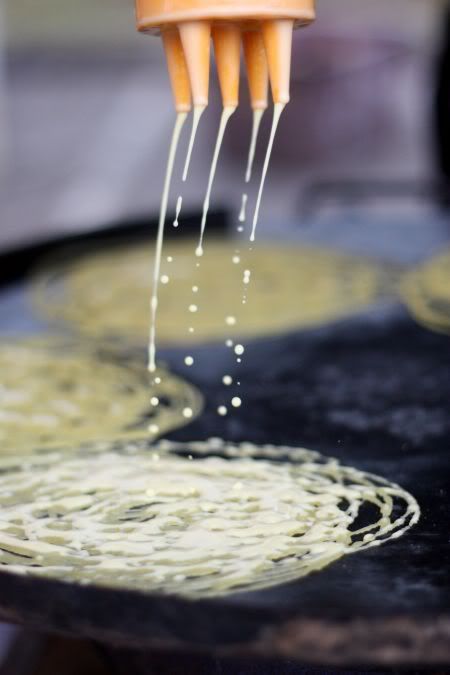 my one in the million shot - batter suspended in the air
If you're looking to snap pictures, make it a point to go early. You get to capture stacks of food laid out nicely, the stall owners prepping up their food and you don't need to jostle with the crowd for space.
the art of making lacy pancakes, aka roti jala
The cendol jugs were out on display again this year - two varieties, one with pulut and another with a mix of colourful jellies. Managed to get fantastic shots of those refreshing looking desserts, perfect for breaking fast with.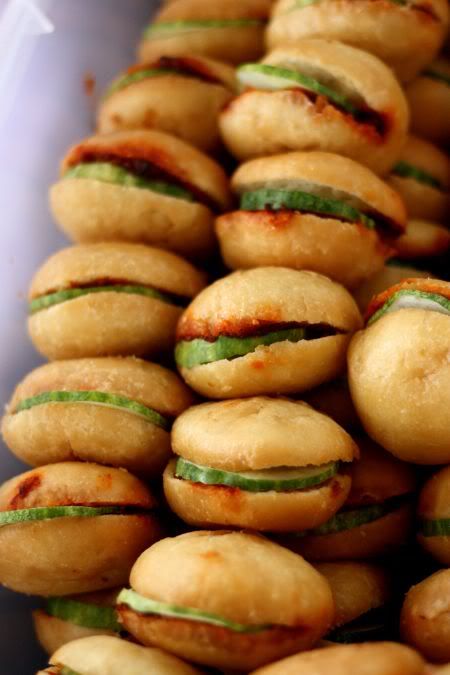 buns stuffed with sambal and cucumber slices
Another favourite was the roti jala stall manned by 2 ladies. I managed to even snap a gorgeous picture of the batter suspended in mid air, just when the lady was swirling it to form the net like pancake. Looked really good and they were serving it with either a sweet durian sauce or the savoury and more common chicken curry.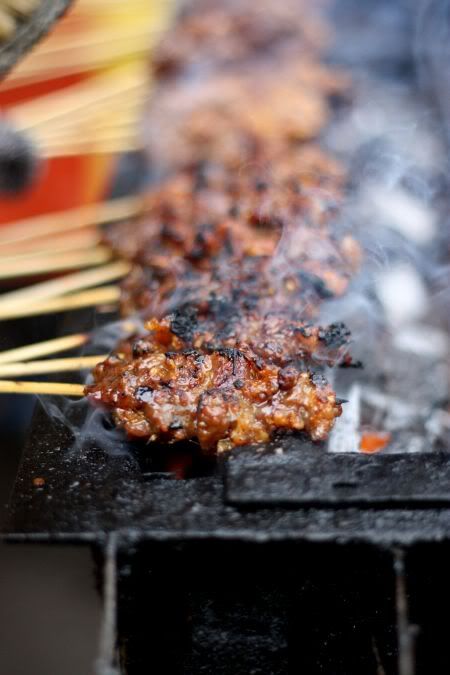 satay being grilled on hot charcoal
In terms of popularity, the stalls of Popiah SS Ali seem to have fallen badly in those stakes. No one seems to be interested in queueing for their popiahs despite them having at least 3 stalls around the bazaar. I guess discerning tasters have figured out the quality of the popiah has dropped tremendously. I've tried the original one in Ipoh, last year and to be honest, the taste has gone down hill.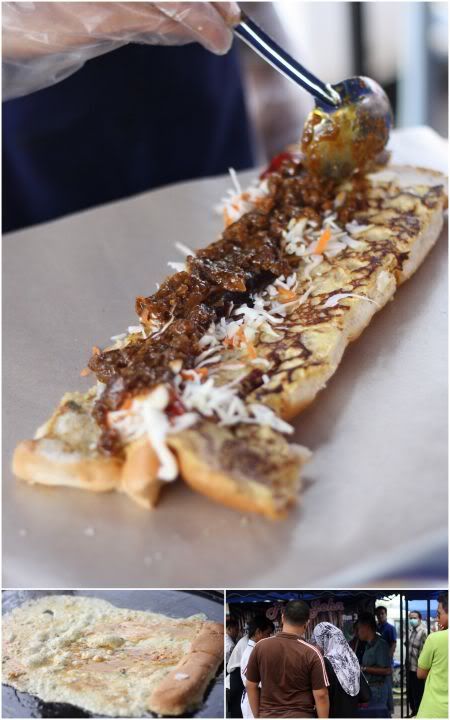 Papa John's infamous roti john
Instead, one of the most popular stalls is Papa John's. Loads of people queuing up for their Roti John, that looked so incredibily good with a choice of minced lamb or minced beef. I'm definitely going to spend some quality time queueing up for that roti john since it looks delectable.
colourful agar-agar
What else was around? The colourful agar-agar stall was doing brisk business as usual - lovely colours all decked out in rainbow of colours. The sweet stalls always seem to finish the fastest, come a little later and they're all gone, especially those yummy or popular ones.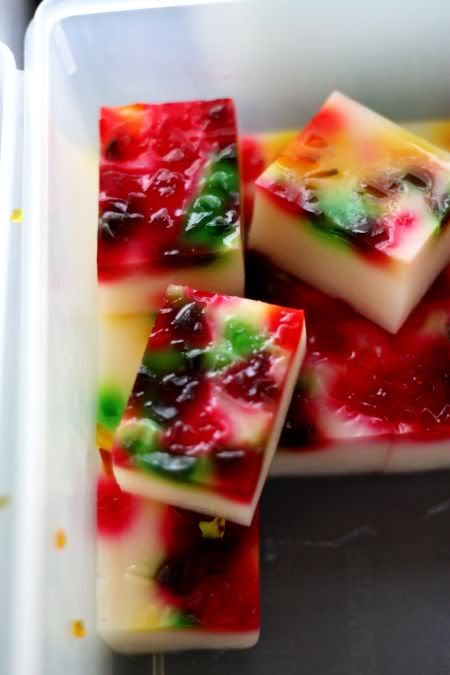 lovely stained glass agar agar
This year, there are loads of soy bean milk stalls - Soy Bean Station and Soy Bean Otai. Both seem to be vying for business with a few stalls around the bazaar, selling soy bean milk and tau fu fah flavoured with gula melaka syrup.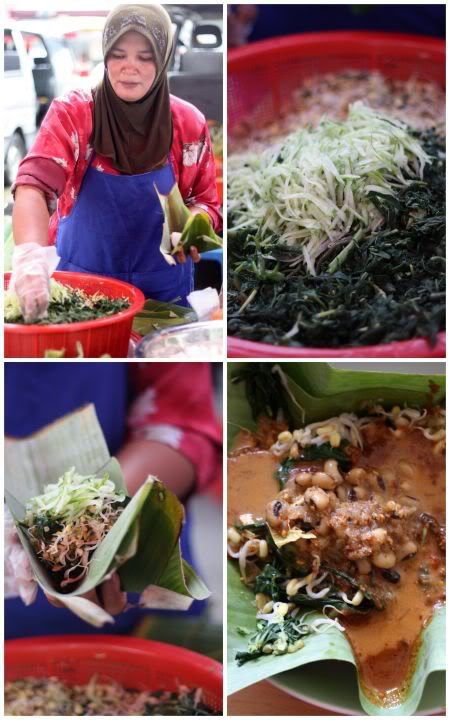 my favourite item in the bazaar - pecal Tanjung Karang
My must-have at this bazaar - the pecal Tanjung Karang for RM2.50. Similar to gado-gado, I love this simple dish of beansprouts, sweet potato leaves and compressed rice cubes (nasi impit) drizzled with their unique sauces. They give you two types - a thick and spicy peanut sauce with another watery one known as the lontong sauce with beans and shredded coconut. Give it a try, as it is absolutely yummy stuff.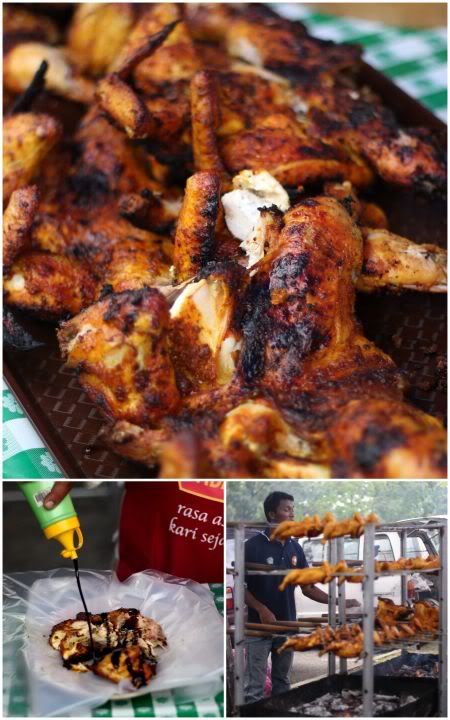 juicy and succulent ayam bakar kenyalang
I also like the ayam bakar kenyalang (RM18 for one bird) - roasted chickens on charcoal stuffed with herbs and drizzled with a sweet soy sauce. The meat is juicy and succulent. Also spied in the bazaar - western favourites like pizza, meat kebabs and chicken chop. For more pictures and explainations on the bazaar, see my Flickr set.
Ramadan Bazaar Shah Alam
Section 13Shah Alam
Bazaar starts from 4pm onwards until break fast time, about 7.30pm