Roti Canai Goreng @ Al-Rafi Bistro, Section 13, Shah Alam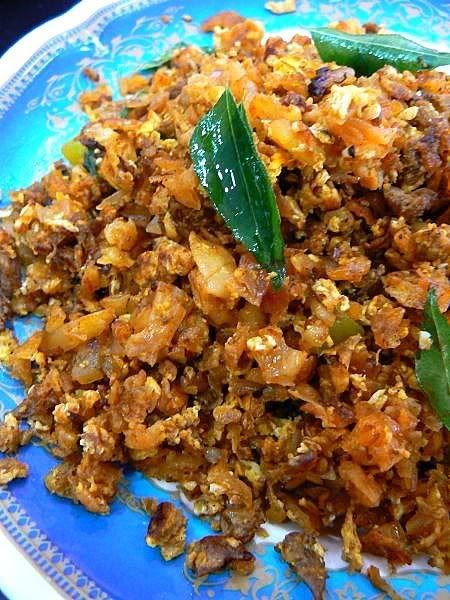 I'm often amazed at the ingenuity of the mamak operators. Last week, I discovered the delicious Roti Bakar Telur Cheese and this weekend, I found another new way to enjoy an old favourite, the Roti Canai. This particular mamak place has a booming business in Shah Alam that they operate from two outlets within the same area. One is the normal mamak place but at this "bistro" version, they boast of serving 100 types of roti canai. I've only seen their Roti KLCC which is essentially twin towers of Roti Tisu.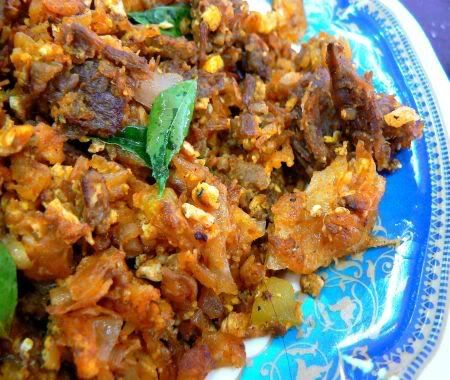 Feeling lost amid the 100 types of roti canai ranging from the basic one at 90 sens to a whopping RM6 version known as Roti Goreng Pattaya, I asked the waiter to recommend one type. He zoomed in on the Roti Goreng Kambing (RM5). Expecting a version of murtabak where pieces of lamb would be stuffed within - we were both stunned for a few minutes when my plate arrived!
Looking very much like scrambled corn beef - they had shredded the roti canai in pieces and dry fried it with chopped onions, curry leaves, egg and pieces of lamb. They definitely thought out of the box for this version as it didn't resemble a roti canai at all! Tastewise - we both liked it as the frying gave it lots of flavour and it was not too oily either. You can't really taste the roti canai pieces though as it's shredded quite finely. We were served dhall but I decided to eat it plain. If you don't take lamb, they also have different varieties.
Aside from this extensive roti canai menu, they also serve western meals. Splashie Boy had the Chicken Cheese (RM10.90) which was also pretty unusual. Essentially a grilled chicken chop, this version was topped with a piece of cheese and ham. Drenched in a brown sauce, it was a nice combination with the salty ham and melted cheese. They also serve drinks in tall glasses here and the usual Nasi Kandar items.
Al-Rafi BistroNo. 85G, Jalan Badminto 13/29
Section 13Shah Alam
Tel No: 03 - 5519 7786
(Halal. The restaurant is at the shophouses near to Giant Shah Alam. The place is one of the corner shop and is open 22 hours. They're closed on Friday from 1 to 2pm. This place seems to be very popular with the car forum meetings as that day when we were dining here, we saw the Proton Savvy Club there. For map, click here.)
*Disclaimer: The opinions expressed here is entirely based on my personal tastebuds and may vary for others. The reviewer also declares that she has not received any monetary or non-monetary compensation from the restaurant for writing this review.
Tagged with: Malaysian Food + Roti Canai